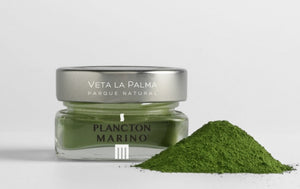 Plancton Marino
Plancton Marino - Plankton 10gr
Regular price
$80.00
$0.00
Unit price
per
Marine plankton is an exclusive food used in the kitchen to enhance the authentic flavour of the sea. The aroma and nutritional value of the marine environment in a unique ingredient to enrich your recipes.
A revolutionary food that aroused the interest of renowned chef Angel Leon from Cadiz, nicknamed the "Chef del Mar". His restaurant Aponiente has been awarded three Michelin stars.
Its highly nutritious, antioxidant composition led to the development of healthy dishes which also had the authentic flavour of the sea. The "Chef del Mar" was aware that this ingredient allowed him to go further in his constant experimentation in the kitchen with only a slight amount of marine plankton, thus obtaining the original flavour of the sea without the need to use a large quantity of marine products.
If you want to know what you can do with Marine plankton:
https://www.youtube.com/watch?v=73QomzaPstY
Plankton Marino butter:
https://youtu.be/_LJ1OW2xp7U
using it in cold dishes:
https://youtu.be/tyHL9FKyIcU
using it in hot dishes:
https://www.youtube.com/watch?v=6Ieh6KqavjA
---