Grapeseed oil is an excellent choice for cooking due to its high smoke point, neutral flavor, and nutritional benefits.
---
• canned seafood • Geyumar • sardines • Spanish food • Spanish Ingredients
Spanish canned sardines from Gueyumar are a true delicacy that has captured the hearts of seafood lovers all around the world. Gueyumar is a renowned Spanish company that specializes in the production of high-quality canned seafood, including sardines. The sardines used by Gueyumar are caught in the pristine waters of the Cantabrian Sea, which is known for its rich biodiversity and crystal-clear waters. This allows Gueyumar to produce sardines of exceptional quality that are highly sought after by seafood connoisseurs. Once the sardines are caught, they are carefully selected and cleaned by hand to ensure that only the highest-quality fish...
---
• olive oil • Spanish food • Spanish Ingredients
Organic olive oil is made from olives that have been grown and processed according to organic farming standards. This means that the olives were grown without the use of synthetic pesticides, fertilizers, or genetically modified organisms (GMOs). In addition to being better for the environment, organic farming practices can also lead to a healthier product. Because the olives are grown without synthetic chemicals, they are less likely to contain harmful residues that could be present in conventionally grown olives. Organic Spanish olive oil is known for its robust flavor profile, which can range from mild and buttery to bold and...
---
• Spanish food • Spanish Ingredients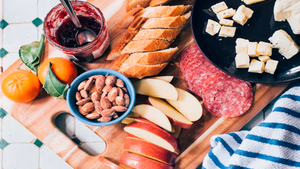 Charcuteries Boards With Spanish Deli Ingredients Are A Wonderful Way To Easily Upgrade Your Charcuterie Boards And Impress Your Guests. Find Out How:
---
Authentic Spanish ingredients are rare to find in Australia and they introduce a whole new world into the kitchen. Spain is known for the high quality of curated meats and paprika spiced foods. Let us, the Spanish food specialists at the Secret Spanish Corner, show you how amazing your meals can turn into with these 3 ingredients for your next dinner party or when you just want to treat yourself!  Spanish Chorizo The great thing about chorizo is that you can have it for breakfast, lunch and dinner and make a fabulous and nutritious meal. Chorizo is a curated dried sausage with paprika,...